Together with local farms, we endeavor to make new the tradition of sake brewing for future generations.

For sake brewing ,our motto is, "Make from the past."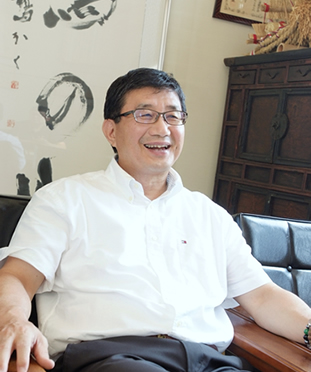 Always looking ahead to the future of the industry,
the 6th company president Yasuhiro Tanaka
continues to accept any challenge.
Our company was established in the 6th year of the Tempo Era, or 1835, as a sake brewery in Himeji. We focused on and continue to make "Meito Masamune" brand sake.
We also had a deep connection to Himeji politics: in the period immediately following the War, our 3rd generation sake-maker was inaugurated into the cabinet as the Minister of Transport.
I am a sixth generation sake-brewer, and I am solely focused on brewing sake.
I returned to Himeji when I was 30 years old, and after joining my father's business, I went on a pilgrimage to Japan's famous breweries while studying sake brewing. I've probably visited about 50 or 60 different breweries so far.
I am a very curious person by nature, and regularly catch a great deal of business gossip. Adapting for my needs, I came to believe that the key to sake brewing is to broaden my scope of a variety of knowledge and experience.
As a creator my joy comes from not just "learning" from the past, but "making" it anew.
The origin of "Make from the past" is putting out sake in a modern flavor that will strike a chord with the Japanese spirit. I continue to make sake in anticipation of the sake brewing industry five or ten years down the road.
The traditional "Ishigake Shiki Tenbin Shibori" method of sake pressing has become locally famous as an end-of-year ritual.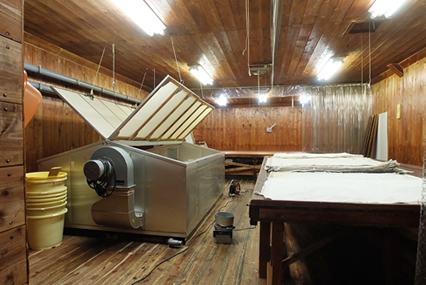 By continuing the traditional methods by hand and accepting
the merits of machinery, we pursue an original way to make sake.
The media covered the first pressing of a new batch of sake.
"Ishigake Tenbin Shibori" is thought to be the oldest method of pressing unrefined sake, but that doesn't mean that this brewery has always used it.
While searching for ideas on how to impart pre-21st century traditional sake brewing and Japanese culture to future generations, the tools were right in our brewery.
As soon as we saw them, it was our "Eureeka!" moment. We started using the Ishigake Shiki Tenbin Shibori method again in the year 2000.
At present, breweries that use this method are few, but it yields a mild-tasting sake that machines cannot match.
In the old days people did not use machines; one admirable technique they had is that through delicate craftsmanship, they knew how to make truly delicious sake.
Japanese sake is a special alcohol with a complicated manufacturing process.
There are many points to be concerned about, and both the flavor and the aroma can completely change based on those points. That makes the challenge worth it.
Our "Daiginjo Shirasagi no Shiro" brew has often received the gold medal at the National New Sake Review Assembly.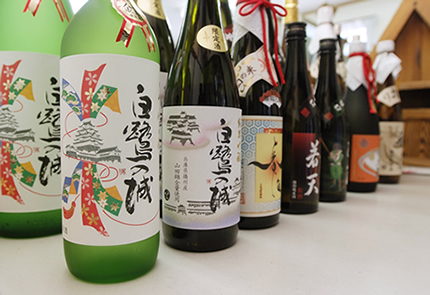 In every lineup, we show an extraordinary passion, and this is
shown by the awards that our products have won.
It first won in 1988, and won for seven straight years after that.
In total, it has won 17 times.
I think it has a clean and refreshing taste.
Allow me to digress to "Kame no Kou," ("tortoise shell"), a sake created from a rare kind of polished brewer's rice called "Kame no Oh" ("tortoise tail").
The sake is heavily brewed, using rice totally milled to a Polishing Ratio of just 8%.
A brewery alone cannot possibly make this extremely special brew.
It is a sake that everyone - the farmers that grow the rice, the tradesmen that that polish it - makes together.
We endeavor to make this brew not for profit, but for publicity to increase interest in sake.
Lately, it seems that we are growing brewer's rice with the farmers.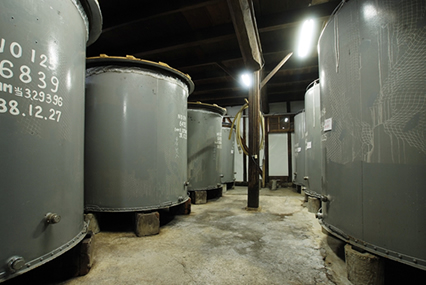 The ideas of farmers, brewers, and everyone else in the industry
have been put together to put Japanese sake at rest.
I don't think that breweries should make sake just to sell.
Thinking "I want to make sake with a story" and in pursuit of the meaning of "local sake,"
I finally hit on a reliable and secure sake, made with both locally grown rice and rice grown in Harima.
Now, together with contract farmers, I am pursuing my goal from the soil of the rice paddies.
Since we are trying to cultivate rice more difficult to grow than Yamada Nishiki (high-quality sake rice), my desire might be difficult.
We are tackling this head-on while gathering advice from rice experts in other areas and trading frank opinions with farmers.
In the future, I want the expression, "Rice collected from Mr. XX's rice field" to be the standard for Japanese sake.
I want to create sake that shows not just the brewers and their workers, but the faces of the farmers as well.
That way, the farmers would find it worth doing, and in a broad sense it would activate the local sake business.
There is an average of 200 years of history in the breweries around Japan.
I will continue to work to pass that history on to future generations.
Daiginjo
Shirasagi No Shiro




Dish with a brilliant career that won the seventh consecutive gold medal in the nation sake model review meeting.

Junmai Daiginjo
Kame No Kou




Daiginjo were charged with rice up to 8.5 percent of the wonder "Kame" liquor rice visionary. I want to drink once.

Junmaishu
Meitou Masamune




Brand with the history was the flagship of the brewery originally. Nimble throat while increasing the alcohol content.
Address
583, Honmachi3cho-me, Hirohata-ku, Himeji,
Hyogo 671-1114, Japan
Tel
(079)-236-0006
Fax
(079)-236-9334
Business hours
From 8:30 to 17:30
Regular holiday
Saturday(Second, third only), Sunday and Public holiday
Parking
Available for 5 cars
Cellar tour
Reservation is required
Shop
Order by Telephone or Fax
Tasting
Not available
URL
https://www.sake-tanaka.com/